Share your photographs...
We would love to feature your photographs on our equipment pages to help inspire others. We respect your copyright. Sharing is easy, just send us a link to your image on social media or your own website and remember to tell us about the following:
State that you own the copyright
---
Give us permission to use it
---
Include a link to your your web space
---
Include a caption for the image
---
Tell us about the equipment used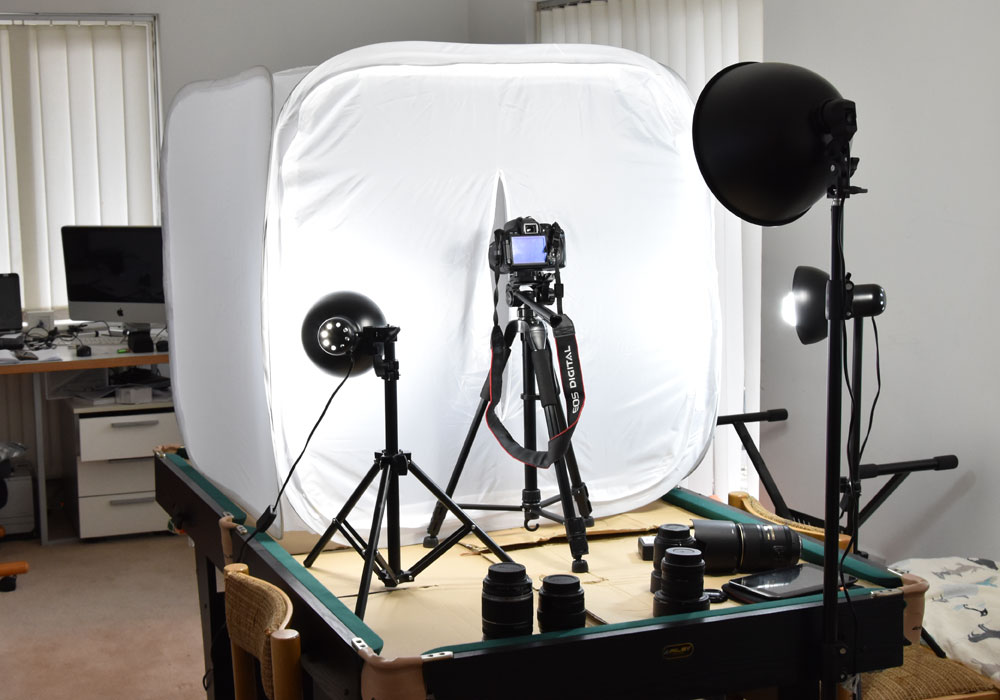 Upload date: 2018-02-19 Caption: Studio Light Tent Kit for DIY prduct photography. Ideal for Ebay, Amazon or Ecommerce, © Peter Levenspiel
Review this item...
Tell us how you would rate it overall:
There are no reviews for this item
The Kit includes three lights all complete with reflector lampshades, one which can be suspended above tent by use of the boom arm included. The boom arm can extend to 135cm and has a nut lock with 4 different diameter holes for different size boom arms if needed, the nut lock can also be rotated to give different angles and there is a sandbag included. The boom arm is fitted with a 5/8" spigot.

Lightweight & durable aluminium light stands adjust from 0.7 to 2m using two single nut locks and are equipped with a 5/8" spigot. Adjustable lampheads combined with highly reflective aluminium lampshades provide the perfect support for the 5500k bulbs which provide the ideal light colour temperature for product photography, the natural daylight they reproduce give your photographs a truer or more natural colour balanced representation of the subject than gained when using 6400k or 2700k bulbs. The bulbs are also cool and therefore safer and more comfortable in the camera studio environment.

Features & Specifications

Continuous E27 Single Light Sockets
3 Pin UK Plugs with Fuses
35w (Equivalent Incandescent 175w) 5500K Daylight Bulbs - Energy Saving - 220-240V 50/60Hz
Durable Aluminium Light Stands – Side Light Stands are adjustable from 40 - 85cm using 1 lock nut - Boom Arm Light Stand is fully adjustable from 0.7 to 2m using 2 lock nuts
Telescopic Boom arm with 2 sections extending from 75cm to 135cm, included nut lock with 4 different diameter holes and sandbag.
1 x Aluminium Light Reflector Lampshade (Diameter 26cm – Depth 18.5cm)
2 x Aluminium Light Reflector Lampshades (Diameter 15cm – Depth 12cm)
90x90x90cm Light Tent - Photographic Grade Light Diffusing White Nylon Fabric.
Light Tent has Removable Front Door Cover & Camera Lens Slit (useful when photographing highly reflective objects such as metals & glass)
4 High Quality Backgrounds Cloths with Velcro corners to stick onto Light Tent (black/red/blue/white).
Gross Weight: Approx 6.1kg
Contents

2 x 0.85m light stand
1 x 2m light stand
1 x Cross bar, nut lock & sandbag
2 x Light head with 15cm diameter Reflector Lampshades
1 x Continuous Single Light with E27 Bulb Socket
1 x 26cm diameter Reflector Lampshade
3 x 35w 5500k bulbs
1 x 90cm Cube Light Tent with 4 Backgrounds
PLEASE NOTE: The lights can be upgraded with more powerful bulbs in future if needed as the sockets are E27 (Edison 27mm) standard.