What does Brexit mean if you're a photographer?
---
Posted on 2016-06-25 (2503 VIEWS)
---
Lets be clear about this... I'm not a political pundit. Despite having done a dissertation in macro economics, I don't really care for conversations about the economy and if you mention house prices to me I'm likely to run for the hills! But I am a tad surprised and intrigued by the UK's decision to pull out of the EU. I wonder what this means for my inner photographer?
The first thing that we've heard about in the news is the economic effect on imports and exports. The pound has dropped and we are expecting exports to increase as they will look cheaper to foreigners, while imported goods will look more expensive for us to buy and perhaps decrease. I probably don't need to assert at this point that most of our cameras are made in Asia. It would follow that this means that the price of this stuff will go up and we may buy less as a result. Thing is, this is all short term knee jerk reaction and I am pretty sure that even if it does go up in the short term that Adam Smiths' invisible hand of the market will sort this out pretty quickly. The fact is that macro economics is so complicated that there is pretty much no chance that anyone can predict with any degree of accuracy what the hell is going to happen... so I am going to come right out here and say, pretty much nothing! If the economic poo hits the fan then I am wrong, if it doesn't and we boom, then I am wrong. But if nothing much happens you may think I'm pretty smart. It's a fairly good bet for looking smart in my view. Yeah, things will change, but other things will change to counteract it... I'm going to watch the price history graphs on the Lens Lab website to see if I am right here...
It's almost the same again for holidays abroad. If you were thinking of heading to Spain to photograph migrating birds for example, today the cost of that holiday is about 7% greater than it was pre-brexit. Does this put you off? Maybe not, but this might make many others decide to stay in the UK for their holiday. Is this a permanent shift? Probably not, and this might be fairly good for the UK economy if we decide to spend more of our leisure money at home. It's a big bother to head to Spain to photograph birds when you can photograph them at home if you find the right opportunities. On this point, how about joining one of our bird photography workshops. Photography is the perfect way of relieving the stress of a marginally destabilised economic and political environment.
On a final note... if you check what people are talking about by typing into google "the effect of brexit on..." google will auto fill this with the most popular search and unfortunately it's house prices! argghhhh... is that really all we care about? Head for the hills people and take your camera with you, its great fun, I'll see you there!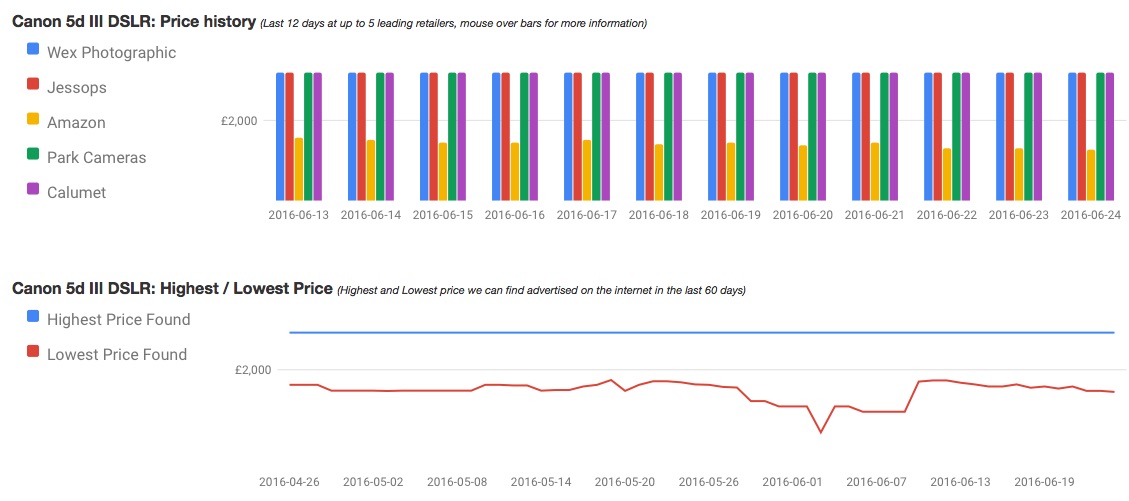 Price graph for the 5d MIII on the Lens Lab website
---
INDEX TO ARTICLES