What the F?
---
Posted on 2017-01-04 (2336 VIEWS)
---
Sometimes we get asked about F-Stops.
A quick google and you'll find this: F-Stops are how aperture size is measured. A small F-Stop such as f/2:0 means the aperture will be wide open and lots of light allowed into the camera. A higher F-Stop like f/32 gives a small aperture that doesn't let so much light in.
But if you're like me you will probably need to know what the number actually represents. The answer is fairly straight forward but I'm not sure that knowing it makes you any better at photography than the nebulous definition above. Maybe it makes things worse? What I mean is that it is enough to hold in your head that a small number means a big hole and a big number means a small hole without thinking about the maths behind it.
Having said that... the maths is not hard: The F-Stop Number is the ratio between the size of the aperture and the distance the aperture is from the sensor. These two factors combine to determine how much light hits your sensor in a fixed period of time. This is why a large F-Stop number such as f/32 would need a longer exposure time than f/2 to get the same amount of light onto your sensor (or film if that's your thing).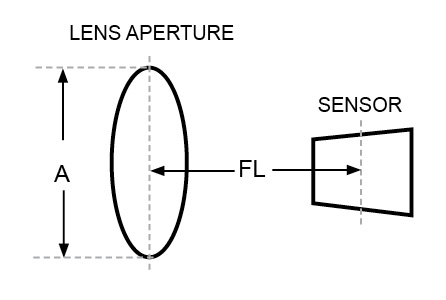 Here's an example:
Lets call FL the Focal Length, that's the distance that the lens aperture is away from the sensor. So you might have a 50mm lens,(it's usually written on the side of the lens), FL = 50.
Now lets call A the size of the Aperture. This is not indicated anywhere on the lens because F-Stop tells you what you need to know but lets just say that the aperture of our 50mm lens is 25mm. A = 25.
Now the maths: FL / A = F-stop. So, 50 / 25 = 2. Or in photography speak f/2.
If you've ever owned one of those caps with the propellers on top (and that includes you simply because you've read this far!) you might want to work out the size of the aperture from the F-stop and the Focal Length, easy: 50mm / f/2 = 25mm. The aperture is 25mm.
Simple right? Now you know, you can stop asking about F and start thinking about F in a whole new light! Or you can do a deep dive and read the Wikipedia page as well. But be warned it will boggle even the best brains and IMO, I would just go outside and enjoy shooting because photography is not a maths lesson!
---
INDEX TO ARTICLES