Make your own cyanotype photogram
---
Posted on 2018-04-12 (3058 VIEWS)
---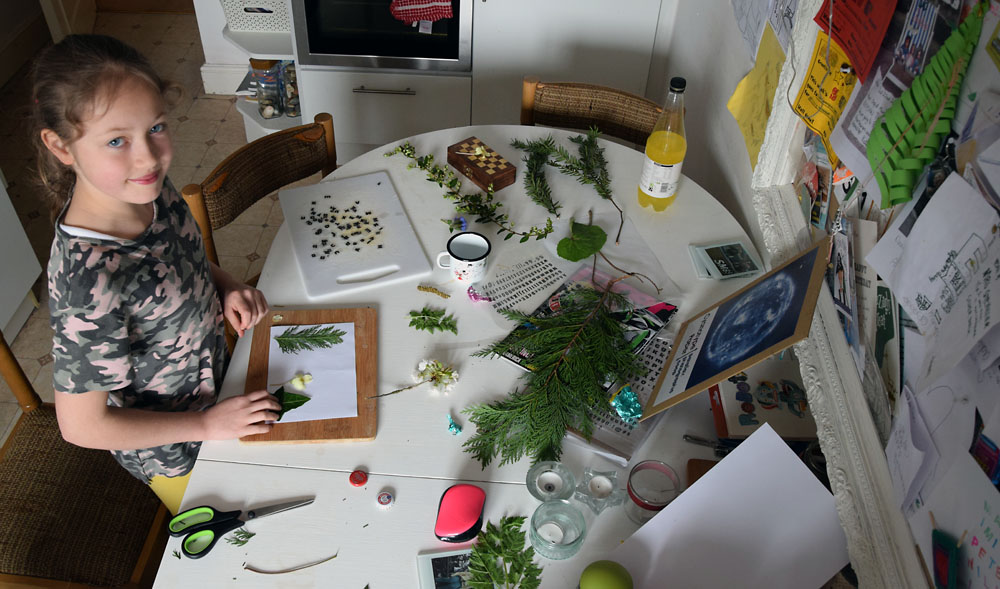 Cyanotype photograms are great projects for children and serious artists.
The cyanotype photogram process is easy, clean(ish), fast and exciting so they make a great photography project for kids as well as serious artists.
Before we begin, here's a few links to some of my favourite cyanotypes to help you get inspired.

There's some beautiful images in there, don't you think?

Lets get started with a really short history lesson. The process was invented in 1842 by English Astronomer Sir John Herschel as a way of duplicating his notes and diagrams (blueprints). In the same year, his friend Anna Atkins applied the process to seaweed by making cyanotype photograms that were contact printed by placing the unmounted dried-algae original directly onto the cyanotype paper. Some of this original work can be seen at the British Library in London.
The coining of the word "photography" is usually attributed to Sir John Herschel in 1839. It is based on the Greek φῶς (phōs), (genitive: phōtós) meaning "light", and γραφή (graphê), meaning "drawing, writing", together meaning "drawing with light". It's also interesting to note that blueprints were used commercially up to about 20 years ago to make copies of all types of plans.
One last bit of theory... the science lesson! Cyanotype is a very simple process. It involves treating a surface with iron salts that reacts to UV light. In this case, ammonium ferric citrate and potassium ferricyanide. Two separate solutions are made and then equal quantities of each solution is mixed together in a third container. Coat some paper or material in the solution and let it dry in a dark place. It's then ready to use to make your photogram.
Fortunately you do not need to mess about with the chemicals because the pre-made paper is freely available to buy by mail order on the internet. We like Parallax Cyanotype 8 x 10 paper. You can order this here: https://parallaxphotographic.coop/shop/cyanotype-paper/
Or you can buy one of our Greetings Card Photogram Kits with everything you need to make 4 beautiful Photogram Greetings Cards for just £4.99 here: : https://www.lenslab.co.uk/photogram
Let the fun begin! Photograms can be made with just about any object but it's nice to know that many cyanotypes are still made with objects from nature, just as Anna Atkins did nearly 200 years ago. It's also a fun way to think about nature and a great excuse to get your kids out into the fresh air to collect some flowers, leaves and anything else that inspires them.
My children are at the age where they are learning to read and write, so I managed to cram in a bit of english by printing some alphabets onto transparencies so they could cut them up and arrange them into words.
It's really helpful to let them make a composition on a blank piece of paper in full light so they don't feel any pressure that the paper might get spoiled by the ambient sunlight. When everyone is happy you can block out as much light as possible and transfer the objects that are going to make the photogram onto the coated cyanotype paper. It doesn't need to be too dark, just avoid direct sunlight and UV lamps. Take the composition to the window sill where there is plenty of sunlight and watch it slowly fade. On a sunny day, this is likely to be around 4 minutes, on an overcast day, this could be around 15 minutes. It's a good idea to cut a small strip to use as a test so you can lift the object off every few minutes to check the contrast. When there is a good contrast you know it's ready. Take the paper to a tray of water and swish it around for about 30 seconds, completely submerged. Then you can hang it to dry and admire your work.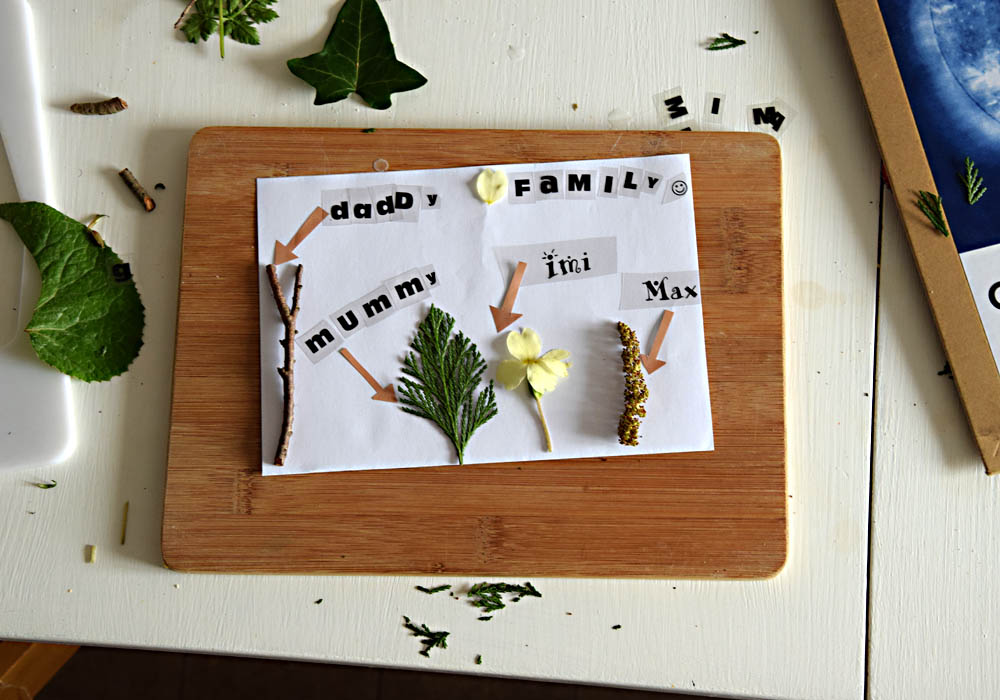 Use a combination of objects and film.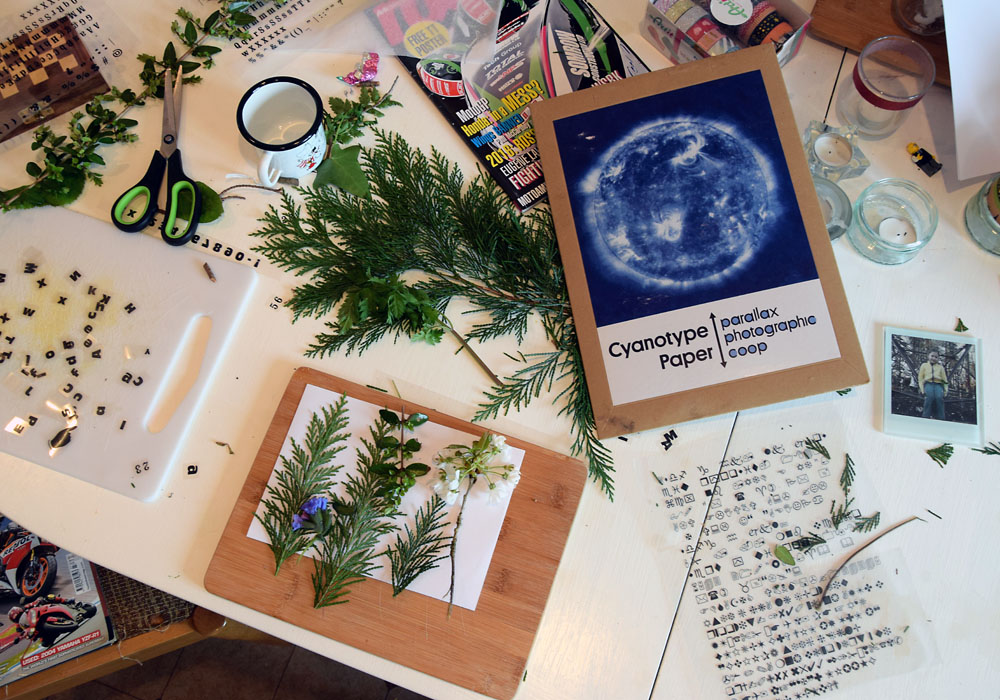 Create the composition on normal paper in natural daylight.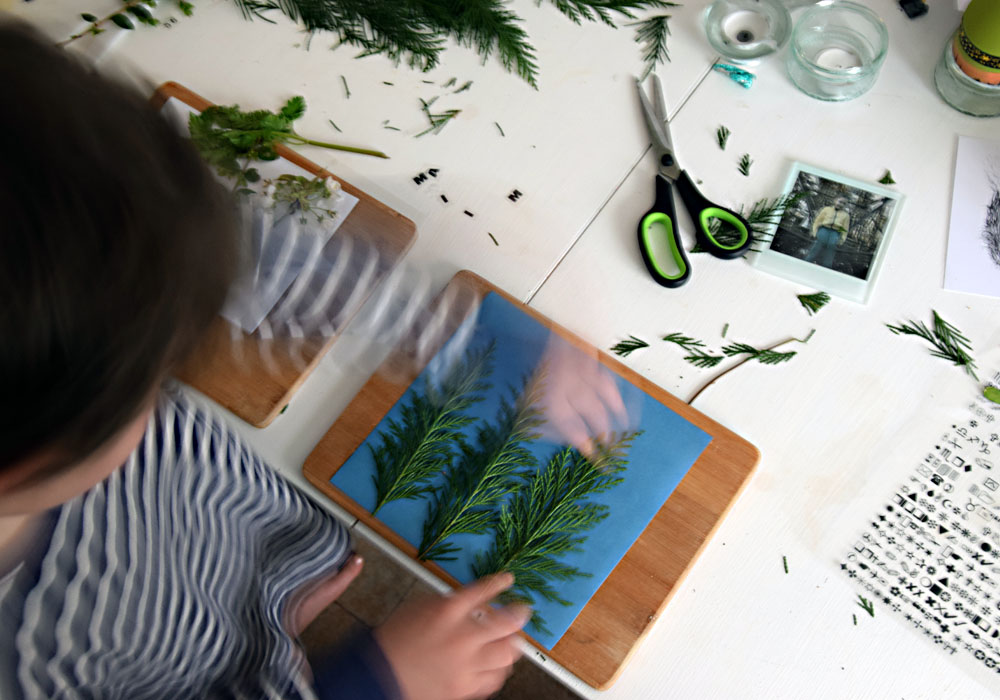 Transfer the composition onto cyanotype paper under subdued light.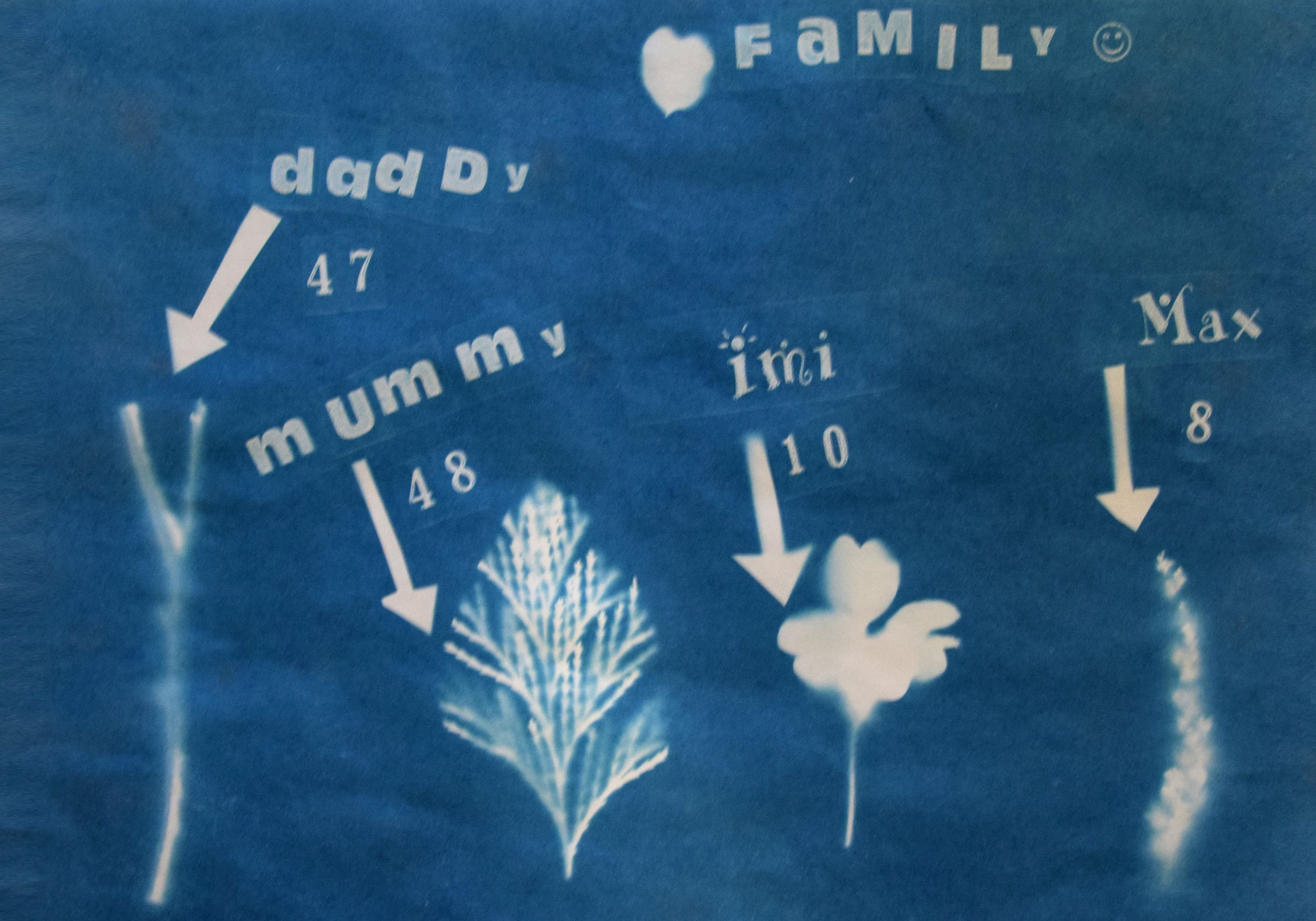 The final results are a fun creative expression to keep.
---
INDEX TO ARTICLES
WHAT YOU NEED TO GET STARTED: