Peak Design slide strap - This one's from the hip!
---
Posted on 2017-07-18 (3281 VIEWS)
---
GEAR REVIEW: Peak Design Slide Strap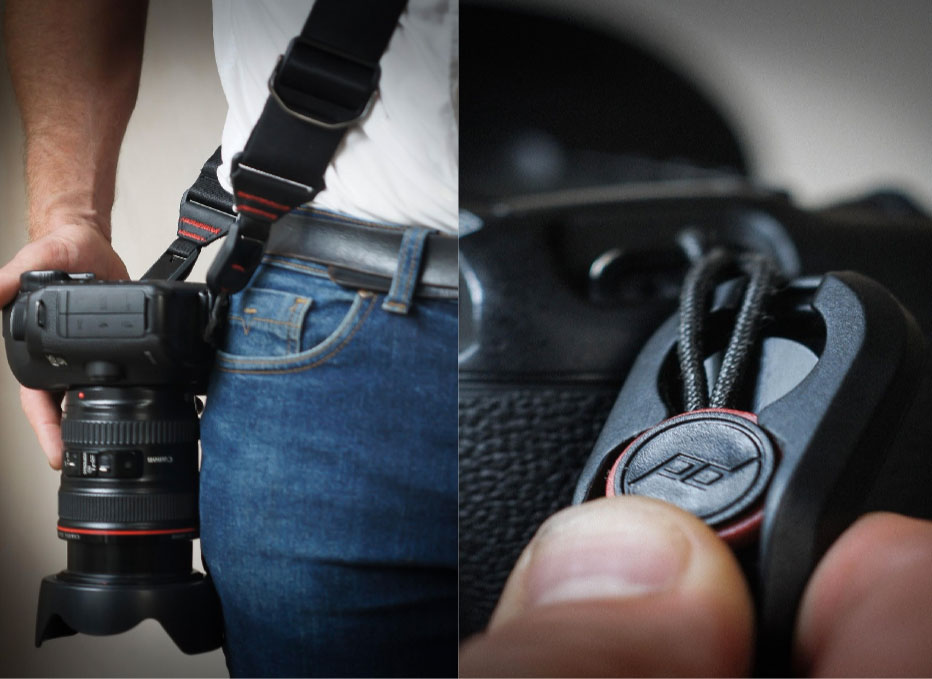 Photographers...we can be such gear-geeks
I mean, it's a technical medium, mostly, incorporating optics and physics and electronics and chemistry, plus cognitive science and even psychology. It all has me pushing my glasses up to my nose bridge and gabbling about science.
In any camera shop, it's the cameras and lenses that tend to be the focus of our attention...and our spending. But it's when we actually leave the shop and get out there with those clever little technical boxes and all their peripherals, that we seem to notice the kit that really helps us. And sometimes it's things that aren't very technical at all...
Camera straps are a great example.
Personally, I confess that I've never spent any money on a strap. I've always unboxed the Shiny New, quickly clipped on the simple strap that's nestled in the polystyrene and got on with it. Years of location photography have taught me that a strap is vital for stopping the dropping. Without one, we're permanently one-handed, with nowhere safe or clean to put the camera down.
I've also noticed that a lot of location photographers (myself included) develop bad backs and necks...curious that...
So the Peak Design Slide Strap seemed an incredibly luxurious item. I'd probably never have considered spending £40-£50 on a strap. But anyone who's been on one of our Walkshops will know, I'm a total convert. After road-testing it for over six months, here (in no particular order of preference) is why:
Sheer mobility - especially in the side-sling mode, the camera just "sits" on the hip. Running with the camera(something any press or wedding photographer will inevitably have to do) becomes a genuine possibility, especially if you use the easy, one-handed adjusters to place the loose camera just behind the upper hip. I don't use the lightest of cameras, either (a good solid Canon 5D Mk3) . With an ordinary neck strap, I'd be hanging on to the camera with one or both hands and adopting that stooped, camera-protecting gait that is honestly not my normal neanderthal plod. Spinning the camera up to the eye is fluid and easy, and this quickly gives a kind of confidence in movement with the camera that really makes a difference to the way I shoot...I'd never thought of that!
Quick release - Boxed with the strap are these little plastic disks on thin, strong waxed cord. These click into a solidly built light metal catch on each end of the strap, with light thumb pressure...then unclick with slightly less ease. I confess they take some getting used to, and the spring clips seem to be cautiously powerful - ok for a neanderthal like me but maybe a more delicate soul would struggle? Nonetheless, the mechanical simplicity of the design works as well as any quick-release I've seen and won't get clogged with dirt or sand...and they have nothing that can scratch or catch the camera and ruin Shiny New's good looks.
Comfort - The Slide seems to be made of old-fashioned soft seat belt webbing...like it was taken from a veteran Ford Mustang. The webbing is softness and strength personified. All very confidence-inspiring, and kind of cool. The mid strap seems to have some sections where there's extra padding that stops the strap creasing on your neck or shoulder - a sign that this has been designed by people who actually use cameras and know how much this can sting. On one side, they've added some lines of rubberised grip to stop it slipping off your shoulder.
The Peak Design Slide Strap has a " system" approach, based on the Arca Swiss type quick release base plate, and...oh dear...we've lapsed into geekiness again.
Basically, one point of attachment is at the tripod screw, via a little square metal plate that will fit into a matched shoe...which would be screwed into your tripod head. This would enable a quick mount/unmount of the camera from the tripod...while the sturdy little plastic disks allow a quick unclipping of the strap once we're on the tripod. Anyone who's used a tripod in windy conditions will know how the strap dangles and flaps like a sail, causing strange artifacts when it flies in front of the lens...and a lot of noise for anyone shooting video.
Arca Swiss quick-release shoes are quite pricey though. I had a quick hunt through ebay and came up with a wonderfully simple and effective shoe that fitted it a treat, and is now my new best friend.
At the end of the day, the Peak Designs Slide has to be more than just a thing to catch your camera when you drop it. It works so well that it's almost a substitute for a camera bag and definitely improves the way you use your camera, keeping it very ready at your side. This one's from the hip.
---
INDEX TO ARTICLES